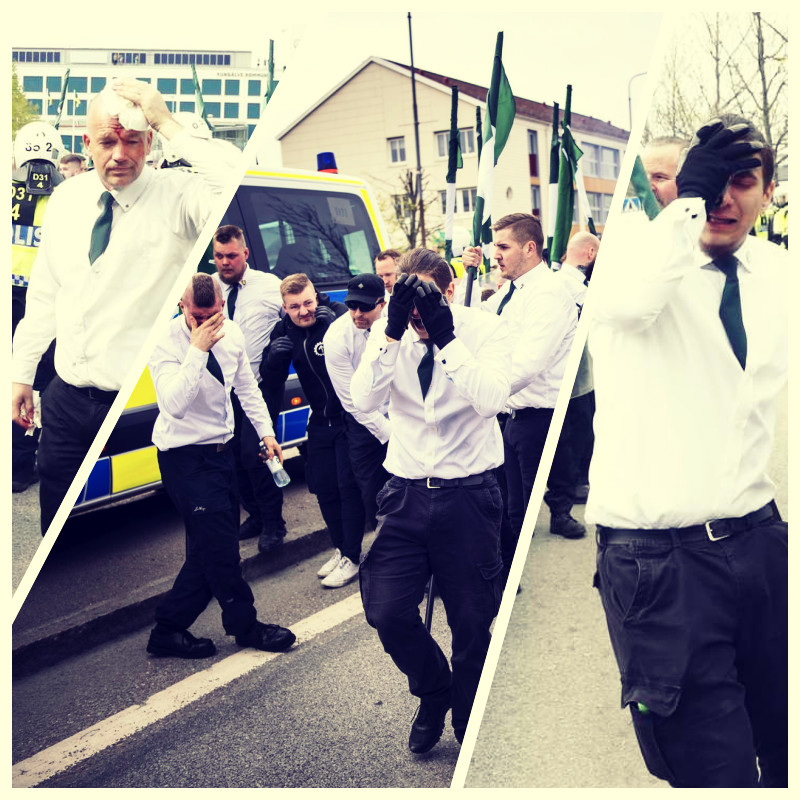 May 1, 2019 the Nazis of NMR demonstrated in Kungälv. They succeeded in reaching their final destination but in spite of strong police protection they met a massive resistance going there and back. Over 500 counter-demonstrators showed that the Nazis are not welcome in Kungälv! A broad powerful anti-fascism lead to the Nazis walking bleeding and scared back.

NMR has been making an effort at Kungälv since for the election year 2018. They have had a number of public leaflettings and activities in Kungälv and ran two candidates in the municipal election. Low election results showed that their propaganda drive had not had great effect. They tried to once again concentrate on Kungälv by placing one of their demonstrations on May 1 there.
NMR gathered on the parking outside the cookie factory in Kungälv to get ready for their demonstration. At the same time anti-fascists gathered to walk in a May 1-demonstration against Nazism in Kungälv.The counter-demonstrators gathered at the Travel Center and walked towards central Kungälv.When the Nazis had started their demonstration anti-fascists went to their demonstration route and final destination Nytorget [a town square]..
When the Nazis came to Nytorget over 500 counter-demonstrators had gathered at the square to show that they were not welcome. Firecrackers and pyrotechnics rained over the Nazis when they went towards the square. When they had arrived the gathering was disturbed by both things that were thrown and by counter-demonstrators' slogans and protests.
The anti-fascists were many and showed clearly that they did not want the Nazis there! Going back they walked with protection by police same way they came and the police could not protect the Nazis against those that did not want them there. Scared and sad they moved onwards on the demonstration route to finally get stopped by the police. The Nazis had attacked the police on several occasions during the day and were stopped until the police had removed those that were to be detained. 25 Nazis were detained for violent rioting, agitation against an ethnic or national group and threat to public servant.
According to own numbers NMR had succeeded in gathering a bit over 400 people at the demonstrations, out of which 160 in Ludvika and 270 in Kungälv. What for NMR was to be a day of showing strength and scaring their surroundings, ended in a fiasco where they met resistance and were bused away. Thanks to the responsible at the premises they should be at after the demonstration throwing them out, they could not have their finalizing activity there either. They instead ended the day by gathering 30-40 people at IKEA's parking at midnight.
The anti-fascist counter-demonstrators were many and of all ages and in various ways showed their disgust against that Nazis demonstrated through the town. There was a strong solidarity and comradery among those that participated and we want to thank everyone for a united resistance during the day!
May 1 in Kungälv can be seen as an anti-fascist victory where it was not easy to be a Nazi. The struggle continues and Fascism must be stopped in all its forms. Get organized and continue making resistance against Nazis and their activity in the way you want to and are able to. All anti-fascism is needed.
If you have information about Nazi activity in Västra Götaland [County] or want to get organized in the fight against Fascism? Then don't hesitate to contact us!
afa-goteborg@riseup.net
// Anti-Fascist Action Gothenburg
---
Translated by b9AcE (https://soc.ialis.me/@b9AcE and https://twitter.com/b9AcE) to the best of my ability, from the original text in Swedish. Any errors are to be presumed mine, not antifa's.