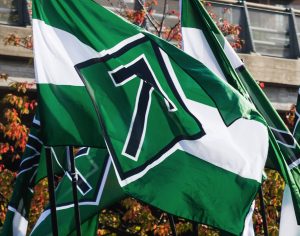 The special pandemic year 2020 is now over and we thought to take the temperature of Sweden's most violent Nazi group the Nordic Resistance Movement [Nordiska motståndsrörelsen, NRM/NMR]. COVID-19 of course has affected the extreme-right just as all other parties and political organizations.
Nordic Resistance Movement (NRM) went through a split 2019 (which we wrote about in an article here). 2019 thereby became a lost year for NRM, but the pandemic year 2020 did not become an upward turn for the organization. Activities continued declining. The organization was forced to cancel their annual demonstration on May Day, which they had planned to arrange in Uppsala. Probably NRM was relieved to, as they in their current condition had enticed fewer participants than previously and hardly been the manifestation of strength they had desired. The downwards tend in activism is also noticable in that the organization continues to lose members. The number of struggle-reports has decreased markedly and when the year is summarized it is under 1500. Such a low number of struggle-reports the organization has not had since 2014. Internally and among members that have left there has been criticism against NRM's strategy to let go of their high demands on which are to be allowed to become members. The critics have argued that the new "trashier" members have given a weakened image of NRM as "elite organization". The organization has continued to lose members to the splinter group Nordic Strength [Nordisk styrka, NS] during the year 2020 and there are only a few members left in Nest 1 (Stockholm, Uppsala, Gotland) and Nest 6 (North Bothnia, Westrobothnia), after the younger members switched.
Just as previously when the organization has encountered adversity they have countered by turning inwards, strengthening the organization as an own closed world for the members to live their whole lives within and the sectarian traits increased. At their annual internal congress days several lifestyle rituals were held: the Nest Chief for Nest 8 (Södermanland, Västmanland, Östergötland) performed a religious baptism for children within the organization and Pär Öberg held a speech on how NRM should go more for holding own weddings, baptisms and funerals.
In January 2019 NRM formulated their goals for the coming five years. One of the goals was: "Within five years we shall under own name have at least one elected seat in municipality, county, country parliament or the EU-parliament." It is therefore rather probable that NRM will stand for the elections 2022. But this strategy is contested, several of those that left the organization argue that the electoral push was a major reason for the split in the organization 2019, since so many key activists burned out in the electoral campaigning 2018. If NRM would choose to not stand 2022 they would show the defectors were right. If they choose to run 2022, with an organization that stands significantly weaker than what it did 2018 they risk getting even fewer votes [NRM achieved for the parliamentary vote 2018 just 2106 votes, 0.03% of total votes] and fail again. There is less than two years left to the elections and if they are to have time to prepare an election campaign they are starting to run out of time. One may compare to the Party of the Swedes [Svenskarnas parti, SvP, Nazi party] which was formed a few years before the elections 2010 and won one municipal seat (which they later lost when the Tax Agency [which handles elections] did not approve the leader's registered address). SvP then bet everything on the elections 2014 but failed achieving any electoral victories and disbanded half a year after the election. NRM is taking a great risk by making a halfhearted electoral campaign, which can –just as for SvP – give the organization irreparable damages.
At the end of 2020 NRM held something they call the Organization-days. During the Organization-days the leadership rearranged the regional leadership structure within most of the Nests and several new Nest Chiefs were appointed. One can interpret that as the leadership being dissatisfied with the development during the year and that the reorganizing was an attempt at turning the negative development around.
During the year the Resistance Movement's organization homepage was launched and the intent was to separate the activism within the organization from their news-page Nordfront. They try to give the impression that Nordfront is an independent Nazi page and not just NRM's propaganda outlet.
With decreasing basic activism during several years it is clear that NRM now tries to find new ways to get attention and get their message out, but with fewer people. They perform nighttime actions by posting placards around fingered pedophiles' residences, posts banners and attack Jewish targets, everything to get the media to write about their actions. The lack of media attention pushes towards more spectacular and extreme actions, to call for attention.
The other Nazi organization, the splinter group Nordic Strength (NS), has hardly been visible during the year 2020. At the end of the previous year they launched two podcasts but since May 2020 no new episodes have been released. The organization bought a house in September 2019 and started renovating. The activist that is on the ownership deeds for the house was jailed in March suspected of aggravated assault. December 22 he was prosecuted again, for another aggravated assault which occurred in December 2019. NS has otherwise focused on holding martial arts training in the Stockholm area.
At the split 2019 there were some of the younger that chose to stay in NRM, but which at spring 2020 chose to later defect to NS. NS has successfully established itself as a more elitist organization than NRM and relentlessly tried to hammer the message that the difference to NRM, where everyone is welcome as members, is that there are significantly higher demands to become an active member within NS.
During 2021 several trials will be held against leading activists within NS. Amongst others two activists have been prosecuted for instigating assault, arms violations, preparation to aggravated arms violation and money laundry which can lead to long terms of imprisonment.
---
Translated by b9AcE to the best of my ability, from the original text in Swedish. Any errors are to be presumed mine, not Garm's.
---
Edit, 2021-02-17: The group "Nordisk Styrka" changed their official English language translation name to "Nordic Strength" according to their webpage, from their initial official translation "Nordic Force", so the translation was updated in this text.