Archive for category Refugees
Since about a month back there has been a demo in Jägersro in Malmö for Iraqi right to asylum in Sweden. The demonstration has been attacked by right-wing extremists several times, that among other things have sicced dogs on the demonstrators and punctured car tires. Night to Monday the demonstration was attacked by a Nazi active within the Nordic Resistance Movement (NMR).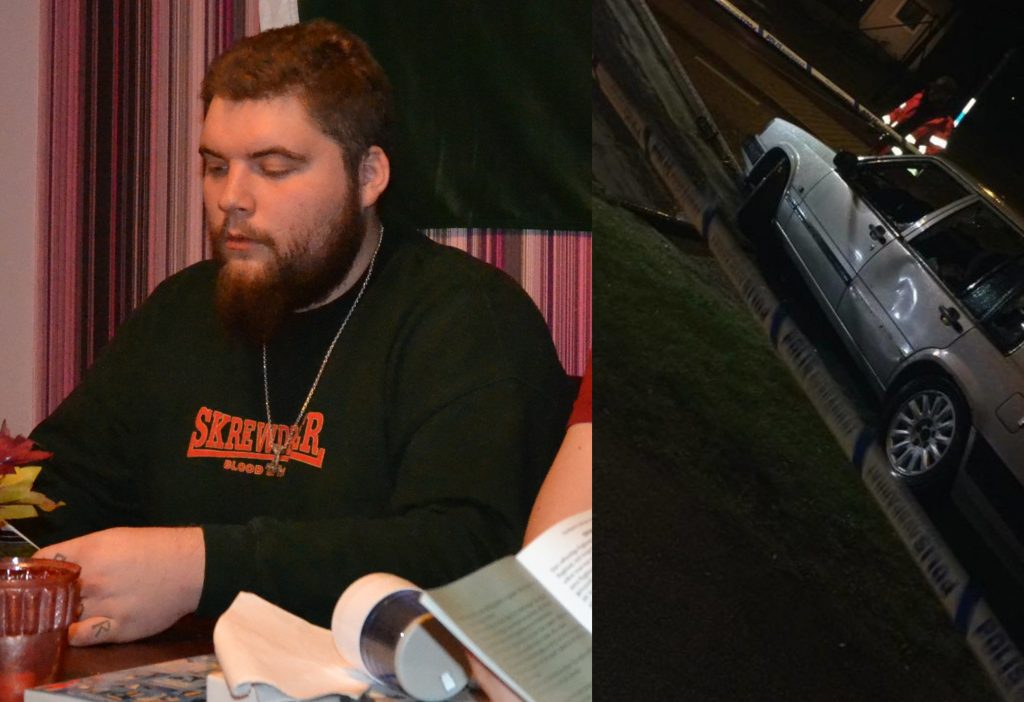 During the night between Sunday and Monday the demonstrators in Jägersro, which hold a demonstration outside the Migration Agency, were attacked by a car driver that intentionally tried to run over the demonstration participants and destroy their signs and banners. After having hit a wooden pole that functioned as a flagpole the car driver started skidding and drove into a tree. The demonstrators have described how the driver remained sitting in the car a long time, knife armed, and later stepped out and attacked them with pepper spray. The man eventually was detained on the scene by the police which arrived later. The car, which was adorned with a Nazi eagle and a swastika, was towed away.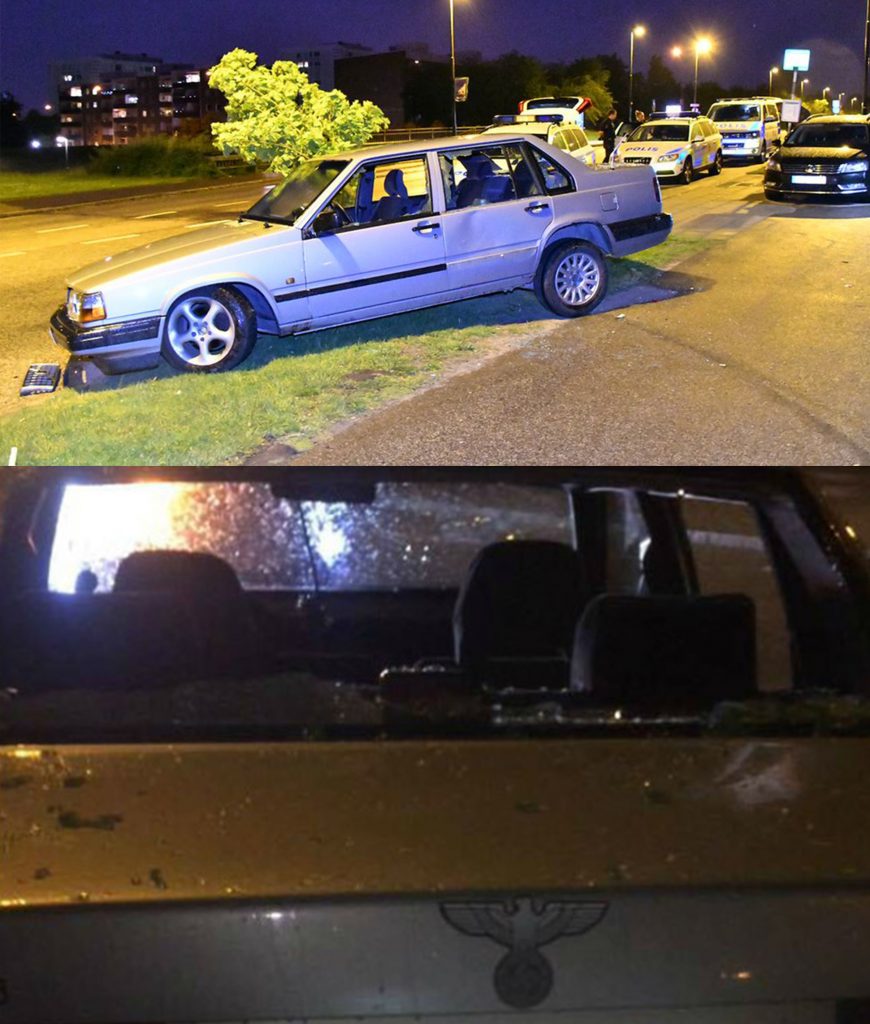 It soon turned out that it was a from earlier known, active Nazi, which during periods has had as a habit to perform similar crazy acts in the area around Malmö – a person that has been identified as Alex Jönsson (950122-9471). The history of Alex actually begins several months before the violent attack against the asylum rights demonstrators.
The swastika car in Rosengård
Early in the month of February several media in Malmö reported how a car was seen driving through and around Rosengård. The attention this got was due to that the tailgate of the car was covered by a big swastika-banner. A sticker from the rugby team Pingvin Rugby Club was documented to be on the car at the time, which made the Trelleborg based team distance themselves and in media clarify that they distance themselves from Nazism and racism:
"Rugby is open to everyone and shall always be so. We have absolutely nothing to do with these insane things"
Spectators described to media how they were shocked to see the car – with a smiling driver – drove past them on the way out of Rosengård. The case with the swastika-car on the Amiralsgatan street however remained unsolved for yet some months, until one day in April when the car was seen once again in Malmö – this time in the Möllevången neighborhood and without swastika banner.
The Nazi at Möllan
[short form of the neighborhood Möllevången]
Late on the Saturday April 22 a lone individual was seen walking on the Kristanstadsgatan street in central Malmö, one of several streets in the area that end near the Möllevång square. He was reported to be dressed in an unbuttoned jacket and under this was seen a shirt with a print from NMR  – one of the most violent Nazi groups in Sweden. He had just posted a couple of Nazi stickers along the street when he was discovered, in the middle of his short walk along the People's Square. The anti-fascists that were informed about his presence immediately located the man in question to confront him, but before they caught up with him he had returned to his car and disappeared.
He did however not immediately leave the Möllevången neighborhood, rather shortly returned in his car, with which he tried to tried to run over the people that then were at the Kristianstadsgatan street. The car had shortly earlier been identified as belonging to a middle aged woman living outside Trelleborg. Later, during the next week, there was a struggle-report published at Nordfront (NMR's home page and news portal) about the evening in question, where the events were described as "propaganda distribution".
After the insane drive at Möllevången the pieces of the puzzle quickly fell into place, and it soon turned out that it wasn't the first time that the car's driver had been roaming in Malmö with malevolent intentions. The car turned out to be the same dark gray Jeep Grand Cherokee that in February had been driving through Rosengård with a swastika-banner over the tailgate – and the person that drove was identified as Alex Jönsson, a 22 year old truck driver from Klagstorp.
Far-reaching Nazi engagement
Alex Jönsson is 22 years old and resides at the the family house in Klagstorp outside Trelleborg, together with his parents. He has in his youth played rugby in the team Pingvin Rugby Club, with whom he in his teens travelled to among other places London to play rugby. He is called Dino by his friends – a name he uses extensively on the Internet, for examples in comments sections of Nordfront and on the anti-Semitic Facebook-copy Oopih. His route into the Nazi organization NMR was supported by Tobias Malvå – with whom he often socializes and posts stickers  – and he has figured on NMR's home page in connection to struggle-reports about propaganda distribution and study circles.
Alex has been seen at several arrangements orchestrated by NMR, such as the action that was performed during the People's Demonstration in Trelleborg March 4 2017, when activists from NMR dropped a banner, from the parking garage above the manifestation, with the text "National Socialist zone". Alex was then on the roof and held the banner together with other NMR activists, like Danny Jönsson and Kenneth Malmqvist.
Alex was also identified on location in Falun, in NMR's May Day-march 2017. He had then taken his mothers dark gray Jeep up to the Dalarna province to participate in the march, within which he socialized among others with Jarl Herlitz.
Alex has in various Nazi contexts been spotted using two different vehicles  – both belonging to the family, which has several vehicles registered to it. The Jeep that he has used on several occasions is registered to the mother, whilst the swastika-adorned Volvo that was used during the latest violent attack in Jägersro is his own, bought during the spring.
XEK 729 – Jeep Grand Cherokee, dark gray

NGM 167 – Volvo 944-811, gray
Violent and unstable personality
Alex Jönsson is a documented erratic individual, which on several occasions has made himself guilty of potentially lethal attacks on people of opposing opinions and  – according to him – undesirables. His propensity to not only resort to threats but also physically assault and try to harm other people was confirmed once again through the attack on the demonstration in Jägersro, when he tried to kill people by running them over with a car.
His violent predisposition and volatile personality is highlighted ideologically by the sides of himself that he has displayed on the Internet, and not the least of all by his well documented Nazi involvement and the fact that he at repeat occurences has tried to run over the demonstrators at Jägersro, destroy their belongings and sought to harm them. Apart from open racism he has previously expressed militant homophobe opinions, through flag burning and participation in Nazi, homophobe contexts.
As of today Alex is formally suspect of several crimes connected to the mentioned attack on the demonstrators in Jägersro – as well as a similar attack the day before the indicated occasion – among others: assault and battery, causing danger to another person, agitation against an ethnic or national group and violating the Knife Act.
Alex Jönsson
19950122-9471
Brunsbovägen 234-10
231 98 Klagstorp
Trelleborg municipality
Do you feel hit by our article – or want to avoid our future attention? Then please contact us via e-mail or through our encrypted contact form. Our comrades in Helsingborg have written a good summary of what our stance is towards contact from defectors: Regarding defection from the nationalist movement.
Do you know Alex personally, meet him in daily life, at work or in the village? Then please contact us with tips and information! Do you have other information about Fascists in Scania, or do you want to become active in the struggle against Fascism? Then don't hesitate contacting us! Mail:
afa-malmo@riseup.net
---
Translated by b9AcE (https://soc.ialis.me/@b9AcE and https://twitter.com/b9AcE) to the best of my ability, from the original text in Swedish. Any errors are to be presumed mine, not antifa's.
The entire text that follows is as direct a translation from Swedish as I was capable of from the original two fact-boxes here at Swedish Public Service TV, as last updated by them on 20 December 2015, 12:22.
Nothing except these two lines in italic was intentionally added in any way at all, nothing was removed and even what may be considered as poor writing was preserved through translation as far as possible.

Eight fires in December
Since 1 July the police has 43 preliminary investigations about suspected arsons at refugee housings throughout Sweden. This is their distribution per month:
July: 2 fires.
August: 2 fires.
September: 7 fires.
October: 15 fires.
November: 9 fires.
December: 8 fires.
Source: The operational department of Sweden's national force (NOA).
---
Fires at Swedish refugee housings
Notable fires at existing and intended refugee housings, as well as attempted arson and other attacks, during 2015:
16 December: An intended residential care home for unaccompanied children in Scanian Ekeby, outside Helsingborg, is ravaged by fire. Police suspect arson.
14 December: An intended asylum housing for unaccompanied children in Södertälje is completely destroyed. Police suspect the fire is an arson.
9 December: Someone tries to set fire to a future asylum housing in Ängelholm by mashing glass and throwing in newsprint paper, that has been lit. But it never became a fully developed fire.
9 December: A residential care home for unaccompanied refugee minors in Långharpan outside Uppsala is completely destroyed in a fire. A boy under the age of 18 is currently held in custody on remand for aggravated arson.
3 December: Apartments completely destroyed when there is a fire in an intended housing for unaccompanied refugee minors in Götene. Motor gasoline is found and the police believes the fire is arson.
15 November: An hand grenade os thrown at the window of a planned refugee housing in Kalmar. Police believes it is very likely it was intended at the planned housing. The hand grenade explodes down at the street, but nobody is hurt.
10 November: A building where there were thoughts of a migrant housing burns to the ground in Forshaga. Police suspects the fire is arson.
7 November: A intended asylum housing in Floda is ravaged by fire.
7 November: Window panes are smashed at a asylum housing in Tranås municipality. A man in his twenties is suspected of vandalism and for placing a placard with racist overtones outside the housing.
28 October: A residential care home in Tjörnarp in Höör municipality, where a number of unaccompanied refugee minors live, was subject to a fire attack. Someone has poured flammable liquid through a window and lit it.
27 October: There is a fire by the door to a housing for unaccompanied refugee minors in Lund and the police label it attempted arson. The same day several small fires start by a planned refugee housing at the Kikebo school in Oskarshamn, which is labeled a vandalism by the police.
27 October: A school in Färingtofta in Scania that is being prepared for unaccompanied refugee minors is ravaged by fire. When the fire department arrives to the building someone had thrown in a large rock and something burnable.
24 October: A building in Eskilstuna municipality, intended to become refugee housing, ravaged by fire. A report of arson is made.
22 October: An intended hosing in Oderljunga in Perstorp municipality burns and the police suspect aggravated arson.
21 October: An intended refugee housing in Upplands Väsby north of Stockholm is subjected to vandalism and attempted arson.
20 October: An asylum housing in Munkedal gets extensive fire damage.
18 October: An old school building in Onsala in Kungsbacka, that was intended to be asylum housing, burns to the ground.
17 October: A school in Kånna outside Ljungby, prepared as refugee housing, burns to the ground.
13 October: Fire starts in a barrack in Arlöv in Scania. The premises were going to begin use as housing for unaccompanied refugee minors the next day.
15 September: Fire at an asylum housing for unaccompanied youth in Boden.
16 August: All living at a refugee center in Arboga, where the so called IKEA-murderer lived, are moved to other housings after two trash bag similar objects with flammable liquid is found near the housing.
16 August: Someone places a burning cross outside an asylum housing in Malung. The event is labeled harassment by the police.
14 August: Fire starts at a housing for unaccompanied refugee minors in Värnamo. The event is labeled arson.
17 July: A fire starts in an asylum housing in Bengtsfors.
19 June: Two fire bombs are thrown into a future asylum housing in Filipstad. A smaller fire starts.
17 June: A balcony at an asylum housing in Vilhelmina is ravaged by fire and the housing's bus gets its tires cut. Forensic examination has been performed and investigation is ongoing. The event is labeled arson and vandalism.
1 May: 130 people are evacuated from an asylum housing in Filipstad after a fire started in one of the housing's premises.