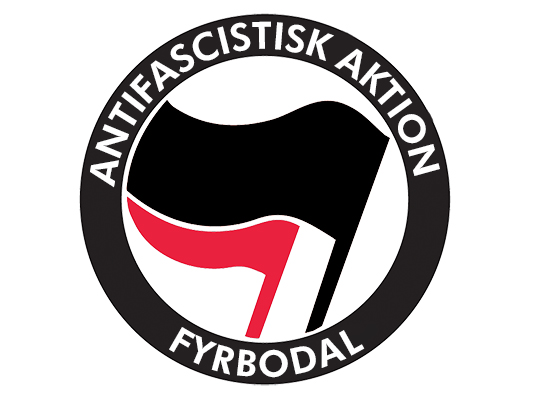 Today it is 20 years since the syndicalist and antifascist Björn Söderberg was shot do death outside his home by nazis on October 12, 1999. Söderberg was murdered after he had revealed a colleague and executive member of the local labor union as an active nazi.
Even though Söderberg wasn't primarily an antifascist his clear action was an antifascist action.
Söderberg is unfortunately neither the first nor the last to be killed by nazis after resolutely having stood up against them. Neither Björn's nor all others that have had to pay with their lives for their civil courage can be forgotten.
They show us the need for countering fascism wherever it shows up and why fascism never can be allowed to grow.
No area in Sweden has been safe from nazi violence, as long as they are allowed to organize and act in peace nobody is safe from their violent ideology.
Within and around our area of activities nazis have both killed and attempted to kill several times through the years, to mention a few examples:
• 2015 a young man with racist motives attack a school in the city district Kronogården in Trollhättan, 3 people are murdered and several seriously wounded.
• 2014 a group of nazis of the then Party of the Swedes tries to cut the throat of a man in Vänersborg after a small fracas.
• 1993 a refugee is severely battered by nazis in Trollhättan, where a man among other things jumped with his feet together on the head.
• 1991 an Assyrian refugee is battered to death by three nazis in Uddevalla.
Not to be forgotten is John Hron which 1995 was battered to death in Kode after he had refused leaving his friend, and had refused to neither accept nor tolerate nazis in spite of repeated threats of violence. John only became 14 years old.
Beyond these acts in our absolute vicinity there are enormous amounts of examples of nazi violence, among those in the forms of murder, threats, serious weapons crimes and battery.
A large part of the active nazis today are sentenced for one or several of the crimes mentioned above, which shows what they are capable of and what we have to expect if we don't act sharply against them.
We see fascism as a violent ideology with a violent practice which we under no circumstances can compromise with. The targets of nazis are LGBTQ+-persons, racialized, of opposing opinions and all others with civil courage enough to stand up against them.
We can never give up in the fight to together obstruct, act, disturb and finally eradicate the organized fascism from our streets.
It is an obvious foundation for a safer and better society that fascists are not allowed to get a foothold and space to act.
Honor the memory of Björn together with us in Stockholm today, get organized for a world free of oppression tomorrow.
Antifascism is civil courage!
We never forget – we never forgive!
---
Translated by b9AcE to the best of my ability, from the original text in Swedish. Any errors are to be presumed mine, not antifa's.
---