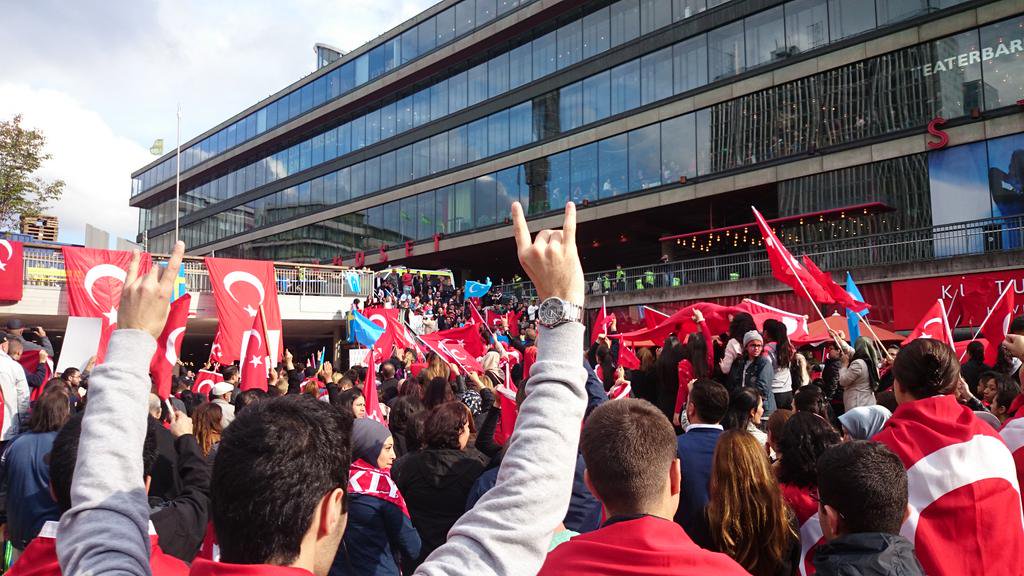 The Grey Wolves is the youth wing to the nationalist party MHP in Turkey that in the election 2015 passed the 10% electoral threshold with 11.90%. The Grey Wolves employ violent methods and aim especially at Kurds, Armenians and various leftist activists.
According to the Turkish State Security the Grey Wolves have murdered 694 people between 1974 and 1980.
In connection with the Turkish State terminating peace negotiations with PKK's leader Abdullah Öcalan, MHP made a statement that – if the State and Security Service didn't solve the "situation" with PKK they would take things into their own hands. This has pushed into existence the siege campaign against the Kurdish cities in Bakur (Northern Kurdistan and South-east Turkey) that is taking place right now.
During the 2015 election 120 HDP-offices were attacked (Kurdish parliamentary party) by Grey Wolves.
Exist also in Europe
This fascist organization is not only organized in Turkey but also in large parts of Europe. In Germany they have up to 10,000 members and also in Sweden they have shown up several times, including 1999 when they attacked the Communist Party of Sweden during a leafleting where they called for boycott of Turkey.
Kurdish activists were threatened several times during the election campaign when they were campaigning for HDP and in September 2015 one of their association's premises were subject to a bombing attack and yesterday (February 13 2016) a Kurdish activist was seriously wounded during a shooting in Fittja.
---
This is a translation by @b9AcE of the text originally published by the Swedish Rojava Committees in Swedish here.
As always, the main aim was to remain as close as possible to the original text.